Hi readers! My name is Maddie and, like Hilary and Lauren, I'm interning at Shop It To Me this summer. I'm having a blast here and would love to hear more from you about your favorite Shop It To Me brands and steals!
In the meantime, I've been thinking about what to wear while traveling. It's been on my mind not only because of Hilary's trip to Paris (lucky her!), but also because deciding what to wear on a long flight can sometimes feel like an exercise in contradictions. The airplane cabin temperature tends to verge on freezing, but once you land, it's perfectly sunny. I've found that searching through your Salemail can yield a few select pieces (on sale of course) that can make your flight and arrival more comfortable and glamorous.
One of my flying staples is a light scarf. Long enough to wrap around your neck as a makeshift pillow but not heavy enough to bring winter flashbacks, a silk, linen, or cotton scarf can give you extra warmth without the weight.
Michael Kors – Tie Dye Linen ScarfReg $295.00Now $147.00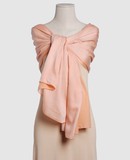 JIL SANDER – StolesReg $335.00Now $218.00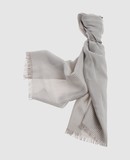 COSTUME NATIONAL – ScarvesReg $144.00Now $65.00
I also opt for a comfy, but still chic pair of flats. The right pair of flats can save you from slipping out of your flip-flops onto airplane carpet and also from spending extra time retying your sneakers post-security check.
Dolce Vita 'Monaco-19' FlatReg $99.95****Now $28.90
Seychelles Tryst FlatReg $79.95****Now $55.97
With the accessories covered, a thin, soft tee and an easy, thrown on sweater fit the layering ticket perfectly. Add your favorite pair of jeans (with a bit of stretch for comfort's sake) and you're ready to hand over your boarding pass!

**
**
Vince Lantern Sleeve SweaterReg $195****Now $97.00
Splendid Multi Stripe Short Sleeve TopReg $77.00****Now $57.75
Splendid – Scoop Tee in PeachReg $44.00****Now $32.90