Olympic Fashion - Ralph Lauren Style
Tonight kicks off the start of the 2008 Summer Olympics, and Fashion and Athletics certainly are blending together!
Project Runway's challenge this week was to create a womens-wear look for the opening ceremony of the Summer Olympics. Tonight, we'll not only see the interpretations of rising artists, but we'll see fashion from a true pro, as the U.S. team will be outfitted in apparel from Ralph Lauren's collection.
Trendsetter "My It Things" shared more:
"As the official outfitter of the U.S. Olympic and Paralympic teams, Ralph Lauren will have a greater presence at the Games than any other designer. Members of the U.S. teams will wear apparel from his collection during the opening and closing ceremonies. The opening-ceremony outfits are reminiscent of the classics reflected in the 1920s and '30s, while the closing ceremony outfits have a much sportier feel and edge."
USA Today elaborated on the details of what we'll see tonight: "the uniforms for the 650 athletes marching in tonight's Olympics opening ceremony in Beijing are a crisp contrast to the short-sleeve jackets and shorts worn four years ago in Athens: tropical wool navy blazers emblazoned with oversized Polo ponies, off-white wool trousers, white cotton broadcloth shirts, white twill newsboy caps and striped silk neckwear – ties for the men, scarves for the women.
The goal was to create "something simple enough for the athletes to put together, yet stylish enough to elevate us as a country," says David Lauren, the designer's son and the company's senior vice president of advertising, marketing and corporate communications.
Each competitor is receiving a pamphlet that details how to wear the clothes well – from how to button a blazer to how to tie a tie to how to "walk and talk in them," says Lauren. There are other challenges when it comes to turning out tailored clothing for everyone from gymnasts to basketball players. "It's not an easy task, fitting clothes on someone who's 5 feet tall or less and someone who's over 7 feet tall," Lauren says.
Apparently, RalphLauren.com and Ralph Lauren stores will be selling nearly 200 non-personalized jackets for $695 after the opening ceremony. My Salemail today had a slew of similar Ralph styles with similar patriotic flair!
Unite Polo$85.00Now: $39.00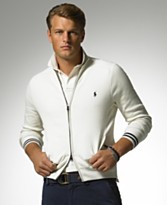 Zip Front Sweater
$165.00Now: $39.99
Valonia 3/4 Sleeve Polo
$69.50Now: $29.99