Today's an important event for the Shop It To Me team…it's our founder Charlie's birthday! Not surprisingly, Charlie is celebrating in style. He's going to a great Mediterranean restaurant for dinner, and then he's party hopping at back-to-back events. So many outfits, so little time! Since we owe some of our favorite clothing to Shop It To Me, we're honoring his day by picking some pieces for the night with items that have popped up in recent Salemail.
The birthday dinner restaurant is upscale Mediterranean. Polo shirts are a staple in Charlie's wardrobe, and this wool cardigan would dress up a polo while still feeling relaxed.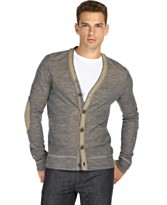 Hugo Boss Orange Luxury Double Layer Sheer Wil Wool Cardigan
Reg: $175.00
Now: $139.99Then Charlie's off to a black-tie event.  Purchasing a tux is an investment, so when doing so it's best to take some advice from GQ and keep it classic. The two-button Yves Saint Laurent blazer is a timeless choice.
Yves Saint Laurent black wool 2-button tuxedo blazerReg: $1595
Now: $1084.60
He won't have time to change before his next party, but luckily, it's rocker-themed. Grab a gold statue and voila! He's dressed as a Grammy winner. So apropos. Happy birthday, Charlie! You've saved hundreds on your wardrobe, so remember to splurge on champagne!