B's Fashion Secrets Revealed
Hi Readers! My name is Lauren and I will be interning alongside Hilary for the remainder of the summer! I will be posting frequently so make sure to keep an eye out! Also, I want to hear your opinion so don't be shy!
Anyone a fan of the TV phenomenon Gossip Girl? The gossip isn't the only thing that is leaving everyone in America glued to their TVs every Monday night. The clothing in this show has taken the fashion world by storm and caused every woman to turn green with envy. Never thought you were going to get your hands on these Gossip Girl exclusives? Well think again…
Did anyone else fall in love with Blaire's dress at the Waldorf-Archibald celebratory dinner in "Victor, Victrola"?
Our fellow Gossip Girl lovers over at Gossip Girl Fashion shared this great photo:
And I was delighted to see the same dress in my Salemail: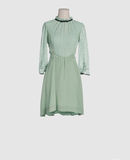 MARC BY MARC JACOBS – 3/4 length dressesReg $325.00
Now $148.00It makes me wonder what other Gossip Girl fashion I will be seeing in my Salemail to come…