Trivia answers -- How'd you do?
Here's the answers from yesterday's trivia…we hope you didn't cheat!
Shop It To Me is headquartered in San Francisco, CA – we're in the trendy South Park area.

The most selected brands are Marc Jacobs, BCBG, and Diane Von Furstenburg — cute items like these:
Marc by Marc Jacobs – Sonia Sateen JacketReg $428.00
Now $170.90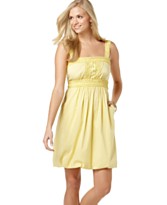 BCBGMAXAZRIA Stretch-Cotton Tulip DressReg $180.00
Now $135.00
Diane von Furstenberg 'Dutch' Silk Jersey DressReg $345.00
Now $206.90But with oodles of other brands, half the fun is being unique and choosing something lesser known!
On average, members are saving 40% off the retail price by using Shop It To Me.

We have more than 700 brands in our library today….and it grows daily (as of today we had 734 to be exact, including Women's, Men's, and Kids/Baby)!
You can see the full brand list when you first sign up. And remember, you can change your brand preferences at any time by logging into your profile and adding more.
So…how did you do???