Have you ever tried to buy a bathing suit online? Initially seems pretty scary…but as long as it's returnable, in some ways I find this takes away the anxiety associated with swimsuit shopping. No fear of awkward dressing room lighting, or needing to de-robe multiple times in various stores on your shopping trip – you can now try on your suit in the comfort of your own home!
And I've already seen some great deals in my recent Shop It To Me emails — for various body types and all price ranges!:
Milly BikiniReg $106.00
Now $79.50
**DKNY – violet crocheted **Reg $112.00
Now $60.30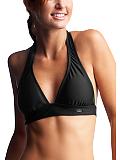 **Gap Essential halter **Reg $29.50Now $19.99
Ralph Lauren Paisley Ring-Front HalterReg $81.00
Now $49.99
Badgley Mischka String Floral BikiniReg $190.00
Now $142.50
Sporty Ralph Lauren Two-Piece SuitReg $183.00
Now $129.00**
One of our Trendsetters, Bargain Chic, highlighted some trendy swim looks this week. The post specifically focused on retro swim styles and captured some great deals. Check out the swim post here.

Summer is here — making it bathing suit season!