Making the Men's Department Your Own
One of my favorite recent purchases is my new black cardigan, complete with varsity stripe and grandpa pockets. I've been wearing it over dresses at night, with shorts on weekends, and with my beloved skinny jeans for everyday. And the best part is I managed to snag it on sale from the men's section, one of my favorite places to shop for cheaper versions of casual staples.
Now, despite my constant raiding of the Gap men's sale section, there are certain dangers inherent in swiping oversized t-shirts and baggy sweaters from the guys in your life (or buying your own). Pairing a Hanes tee and jeans just looks dull (and slightly too androgynous), while, if done right, à la Mary-Kate, a loose v-neck tucked into a slim skirt can take a men's basic to completely feminine heights.
Another mens' or boys' standby beyond the trusty cardigan is the button-up shirt. Buy it smaller to polish up jeans, or buy it oversize and belt it for a simple dress. But be sure to keep Fashionista's concerns in mind. This look works best when you don't reveal too much!
The key point to remember is to keep it balanced. If your men's piece is slouchy, nip it in with a belt or pair it with fitted bottoms to avoid all-over bagginess.
Here are some clean and classic items that lend themselves to easy layering: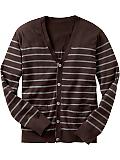 ****Gap striped cardiganReg $44.50Now $19.99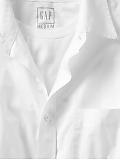 Gap solid white casual shirtReg $39.50Now $29.99
Old Navy Men's Oxford ShirtsReg $19.50Now $9.99
Marc by Marc Jacobs – stripe jersey 'Belltown' tankReg $58.00Now $31.50
And finally — I'm skipping the ill-fitting territory of men's pants on women — shoes! This pair of Nike Dunks add Lily Allen whimsy to a men's standby, while these Tommy lace-ups are sleek and stylish enough to avoid any gender identity crisis.
Nike Dunk Low CLReg $85.00Now $49.99
Tommy Hilfiger Duxbury Lace-upReg $38.95Now $29.99